View our selection of dependable Air Cleaners that have a long history of reliability, value and efficiency
RGF Environmental Systems
Guardian Air HVAC Cell
PRODUCT DESCRIPTION
The Guardian Air by RGF® is designed to eliminate sick building syndrome risks by reducing odors, air pollutants, VOCs (chemical odors), smoke, mold bacteria and viruses*. The HVAC-PHI Cells are easily mounted into air conditioning and heating systems air ducts where most sick building problems start. When the HVAC system is in operation the HVAC-PHI Cell creates an Advanced Oxidation Process consisting of: Hydro-peroxides, super oxide ions and hydroxide ions. All are friendly oxidizers. By friendly oxidizers we mean oxidizers that revert back to oxygen and hydrogen after the oxidation of the pollutant.
SPECIFICATIONS
HVAC-PHI-118-GA-VSF: 300 to 1,200 CFM 13.3 watts
HVAC-PHI-212-GA: 1,000 to 6,500 CFM 13.3 watts
HVAC-PHI-212HO-GA: 6,500 to 10,000 CFM 21.6 watts
HVAC-PHI-357-GA: 10,000 to 18,000 CFM 19.2 watts
HVAC-PHI-357HO-GA: 18,000 to 26,000 CFM 32.4 watts
BROCHURE
REME HVAC Cell
PRODUCT DESCRIPTION
REME or Reflective Electro Magnetic Energy utilizes an electro magnetic energy cell to create Ionized-Hydro-Peroxides™, a friendly oxidizer plasma made from oxygen and humidity. This air purifying plasma is propelled into the HVAC duct or plenum by a silent plasma propulsion module that has no moving parts, yet propels the plasma at 2 cfm. This provides for fan or blower-less operation on a 24-hour basis. The purifying plasma will be propelled through the ducts whether the fan or blower is on or not. This permits a hardwire 110 volt plug-in installation that lets the REME run 24/7 without wiring to the fan/blower circuit. .
SPECIFICATIONS
Installation: Installed in HVAC duct, plenum
Electrical: 110-220 VAC 50/60Hz
REME-HVAC-305-HO: 6,500 to 10,000 CFM 23 watts
REME-HVAC-305HVAC: 1,000 to 6,500 CFM 14 watts
BROCHURE
Honeywell Systems
F100 Whole-House Media Air Cleaner
Cleaner indoor air.
Up to 14 times more effective than a standard one-inch filter, capturing up to 96% of airborne particles*
Lasts up to four times longer than a standard one-inch furnace filter. Replace every 6-12 months versus monthly or quarterly changes.
Free private labeling ensures filter replacement calls
5-Year warranty
Six space-saving sizes to fit any application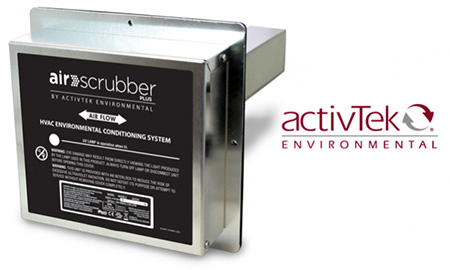 Air Scrubber Plus® with ActivePureTM Technology
Air Scrubber Plus® is a revolutionary new system designed to help eliminate indoor air quality risks by reducing air pollutants, VOCs (chemical odors), cigarette smoke, dust, pollen, mold, odor-causing bacteria and odors caused by pets and cooking.
Air Scrubber Plus® with ActivePureTM technology, cleans, freshens and purifies the air using specialized germicidal UV light waves along with a proprietary catalytic process that creates enviroscrubbing molecules of oxygen and hydrogen, just like nature's outdoor scrubbers.
Protect Your Home and Family
Air Scrubber Plus® ensures that air ducts, tables, furniture, countertops, bathrooms, doorknobs and practically every surface you touch is cleaner and safer for your family. It's as simple as turning on your fan, furnace or air conditioning system.
Once installed, Air Scrubber Plus® goes to work right away by copying the power of nature outside to clean your home inside. As air passes through the unit, it is transformed by our unique technology. ActivePureTMscrubbers then travel through the ductwork into every corner of your home, effectively treating and purifying the entire house.
Protect Your Expensive HVAC System
Heating and cooling systems can cost as much as a new car! Air Scrubber Plus® extends the life of your existing heating and air conditioning system by trapping dirt, dust and other debris before it enters through the filter, damaging the coils and blower that keep your system running effectively. A protected HVAC system can last up to 15 years or more at peak efficiency, saving you money on your utility bill every month and reducing the need for expensive service calls. A dirty, unprotected system may need to be replaced in as little as five years.
Air Scrubber Plus® Reduces Dangerous Airborne Contaminants
The United States Environmental Protection Agency (EPA) has ranked indoor air pollution among the top five environmental dangers. The quality of indoor air can be two to five times (and even up to 100 times) more polluted than the worst outside air.
Air Scrubber Plus® with ActivePureTM technology reduces up to 99.9% of the harmful contaminants throughout your home.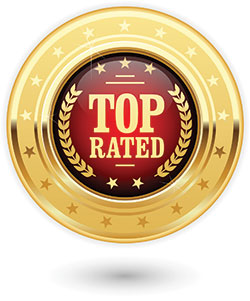 Majestic A/C is a top rated, customer-friendly air conditioning contractor.  We can repair or service any make or model air conditioner with expert precision and reliability.  Our technicians are factory trained and highly knowledgeable to accurately diagnose your ac problems and offer solutions.
At Majestic A/C, we only use quality replacement parts and accessories to ensure that you have years of dependable AC repair.  We stand behind our services with our very own 100% satisfaction guarantee in addition to any factory warranties for the parts we use.
We maintain great relationships with our clients.  Our record with the BBB and other rating organizations show our commitment to providing great services at reasonable and fair rates.  Give Majestic A/C a call and you will be surprised how professional AC repair services can give you peace of mind.
Service or Estimate Request
For fastest service call (281) 376-2224
SERVICE YOU CAN TRUST, QUALITY YOU CAN FEEL