Whether you need repair services or a quote for a brand new high-efficiency air conditioning system, our certified technicians and comfort specialists assist you.
Our focus is 100% customer satisfaction.  It drives every aspect of our AC business.
AC Repair Service
Our expert AC technicians will accurately diagnose and repair your air conditioner.  We service any make or model air conditioning system.  Our repairs will be done on time, on budget and fixed right the first time.
New AC Sales
If it's that time to replace your old AC with a new, high efficiency air conditioner, trust the pros at Majestic AC to determine the best system for your lifestyle and your budget.
AC Maintenance
Our Crown Club membership will keep your air conditioner working at peak efficiency with an annual tune-up from from our expert technicians. Annual preventative maintenance prolongs the life of your HVAC system.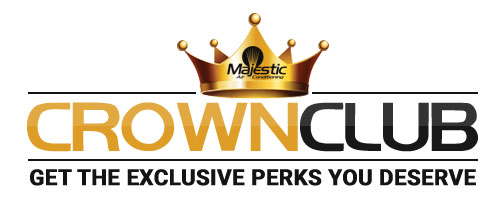 Crown Club Maintenance Program
With our Crown Club Membership, we will provide a complete precision tune-up and professional cleaning either annually or semi-annually, depending on the agreement for your heating and air conditioning equipment.
SAVE 10% by signing up online today!
Our Crown Club Memberships are very affordable and for the long-term benefits, a very smart choice. For a home with one unit, we provide two (2) semi-annual precision tune-ups for only $129 for one year. For homes with two units, the cost is $229 for one year. To take advantage of this program, please contact Majestic Air Conditioning and speak to one of our comfort specialists.
We're all about home comfort…
When it comes to air conditioning, heating and indoor air quality, Majestic AC provides the best service and HVAC equipment available.  From knowledgeable comfort specialists that can help you find the best AC system for you and your family to licensed technicians that can fix anything that goes wrong, the professionals at Majestic AC will treat you like family and help keep you comfortable year round.  Our Customer First focus is integrated in everything we do.

Welcome to Majestic AC
Reliable Air Conditioning Repair, Tune-up & Installation Services in Spring TX
We are a full service air conditioning and heating contractor specializing in air conditioner repair, preventative maintenance and new system installations.  We service a wide area of southeast Texas including Spring, The Woodlands, Tomball areas as well as the Greater Houston metroplex
Expert Air Conditioning Repair, Maintenance & Installation Services
Houston summers are unforgiving and it is a necessity that your home AC system work at peak efficiency.  Our technicians are experts at diagnosing problems and fixing them the first time.  Don't rely on a fly-by-night service for your home comfort needs.  The pros at Majestic AC will have your air conditioner repaired quickly and affordably.  Plus we stand behind all of our repair, maintenance and installation services 100%.
We have three generations of AC experience behind us and hundreds of loyal repeat customers.  Give us the opportunity to show you what a true, professional AC service company can bring you in regards to peace of mind.
Indoor Air Quality
Often neglected, the quality of the air indoors is very important to you and your family's comfort and health.  An indoor air quality check by a trained Majestic AC Air Quality professional can determine if your home is subject to:
Allergens that may cause health problems
Air that is too humid or too dry
Pollutants and molds that may be present
Poor air quality may contribute to current or future health problems.  For detailed information compiled by the U.S. Consumer Product Safety Commission, click here.
Heating Services
Around Spring, Tomball and The Woodlands, you rarely need to run your heater but when temperatures drop they usually do so quickly.  Because heaters are not used often, it is more important to maintain proper maintenance on them.  The experts and Majestic AC can repair or service any make or model heater.  We also install quality, brand name heaters and stand behind our equipment and workmanship with a 100% satisfaction guarantee.
Don't let a cold snap blindside you.  Get your heater tuned up annually so that you will be ready.
FOLLOW US ON SOCIAL MEDIA
Get the latest info on home comfort including money-saving offers, one-time deals and specials.
SERVICE YOU CAN TRUST, QUALITY YOU CAN FEEL
Where do I start !! Just can't say enough about this company and their employees. They have serviced my A/C unit for several years, also installed with utmost planning knowledge and pesicion from Chris and Dave, a totally separate and independent Mitsubishi unit in our sun room, which works great, and I love on those hot Texas summer days. Only this week we had to replace our second unit that was 18 years old. We did so with good information and advice from David. The entire system was installed in a day, everything went very smoothly. We are loving the results. I am very particular in my home, do not worry they arrive with booties in hand !!!! Floor covers, and a smile on their face. If I could give 10 stars I would.

Pamela Taylor-Foster


3/31/2017

Derrick was very kind and knowledgeable on recommendations on our Ac unit that went out do a bad storm we had. Thank you Majestic Air Conditioning!!!

Christie Nichols


4/28/2016

Courteous, quick and inexpensive. My A/C stopped working. The tech arrived and within a few minutes he had resolved the problem and only charged me the standard trip cost. My A/C is working great. No hassles, no overcharges. thanks

George Park


7/19/2016

It's great working with honest, prompt and courteous people. Keep up the great work Majestic.

Sonia Lopez O'Sullivan


9/26/2016

Nothing to say but GOOD! Would recommend to anyone!

Dianne Brown


3/31/2016

Professionally courteous, timely, responsive, prepared and highly efficient in fixing our problem! Totally recommend Majestic for all your HVAC needs!!

Judith Brock-Mack


6/15/2017

Excellent phone support, scheduling, communication and tech service! All components of the service was timely and professional! I am completely sold on Majestic!! Thank you!

Liz Maas


1/25/2017

David came out early on a Sunday morning and had my air conditioner back on within 30 minutes. Awesome service

Lou Ann Walker


9/04/2016

We have been using Majestic for a few years now. We have had an annual maintenance contract for spring and fall checks and service. Debbie in the service department is easy to work with and understands our needs. David, our technician, is a real gem. He is always on time, courteous, knowledgeable and really helps us with decisions. He doesn't try to upsell, but gives all the options. When we had a failure in A/C one, we scheduled service and then replacement. When A/C two failed, they moved up our replacements so that we were not dying of heat for 5 days. Thank you so much. I do recommend Majestic to my friends and I have one who is planning to move to them!

Tammy Fincher


5/09/2016

I trust my home, not my house, my home, to the Majestic Air Conditioning team. I never feel anything but ease when I have a need for them. They are fair and honest.

Randall Hoggard


6/18/2017
In the HVAC industry, we understand there are many choices.  We work hard everyday making sure our customers know that they are the focus of our business.  Great customer service starts with that first service call or estimate and never really ends. We offer some of the best air conditioning products in the industry in terms of reliability and durability as well as expert HVAC knowledge and experience.  View our reviews in the following sites and you will see how we are uncompromising when it comes to our customers 100% satisfaction with our products and services.
Friendswood
Pearland
Sugarland
Iowa Colony
Missouri City